Nell's Gourmet

Handcrafted and homemade
Too Busy to Cook?

We've got you covered
Small batch cooking & baking

With a commitment to low waste
Order by Friday at noon

Pick up the following week
Nell's Gourmet
Handcrafted and homemade
Too Busy to Cook?
We've got you covered
Small batch cooking & baking
With a commitment to low waste
Order by Friday at noon
Pick up the following week
Let Nell's be your solution
Nell's Gourmet To Go makes your life easier by preparing meals that you enjoy in your own home. 
Each week we prepare from scratch sauces, dressings and make delicious meals & desserts from an ever-changing seasonal menu. 
Order by noon Friday for pickup the following week. 
Can't order ahead? No problem! Shop our same day specials!
Call our kitchen at 605 791-1518 to reserve an item for pickup or stop in to shop!  We are open Monday through Friday 10-6, Saturday 9-1 at our new kitchen at 1018 Jackson Boulevard.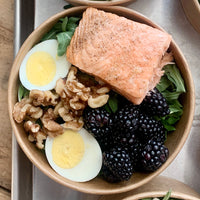 Testimonials
I'm so glad to be back in Rapid from a busy few months of work travel. My dinner tonight from Nell's was so ridiculously delicious. I could have eaten 4 servings.

Seriously, we are so lucky to have Nell's Gourmet To Go here in Rapid.

Sara
Marinell's food is amazing! Our family always enjoys the meals and it really doesn't matter what it is, it's always really tasty, and a unique twist on recipes. It's always healthy and fresh.

Rapid City is lucky to have Marinell and her passionate crew providing such a great service for busy families.

Bobby
We have been blessed with Marinell's meals from the very beginnings of Nell's Gourmet to Go. They have saved my sanity and my marriage.

Vicki
I've ordered meals, am a huge fan of their quiche, have gifted their services to friends during times of need and recently ordered a small catered brown bag lunch for a client's staff. 

Every order has been wonderful, communication has been quick and responsive. Customer Service is always excellent.  The shop is welcoming and it's a delight to pick up my order.

DebAnn
She has cooked meals for my employees during busy weeks, and my co-workers are big Marinell fans, also!   
 
I always tell my friends this: I cannot plan meals, grocery shop and prepare the food for what I pay for her services each month.

Vicki
For the last two years Nell's Gourmet has made our family's life easier on a weekly basis. Their selections always nourish our bodies with tasty and healthy home cooked meals along with the occasional sweet treat. This is a life saver for a full time working mom with two young kids. We can't say enough great things about our experience! 

Amanda
I can't say enough good things about Nell's Gourmet to Go!  We found Marinell and her team when we were looking for a meal solution for our mom – and now we are hooked!  I love cooking myself, but my cooking skills and menu are limited, and to get a break once or twice a week from cooking, and still get a delicious home cooked meal at VERY reasonable prices is a treat!  I highly recommend Nell's Gourmet to Go.

Margaret
I am a single parent of two teenagers.  Marinell has cooked for our family for years. Her cooking has been a life-saver for our family.  It is prepared with the freshest ingredients.

Kurt
This busy mama is so grateful that we have Nell's here in Rapid City! It's our favorite place to stop on our way home! 

Nell's has become a staple on our busiest weeks! I can always guarantee that no matter how crazy the day, I can have a balanced healthy meal that is so incredibly delicious! Not to mention the friendliest staff and the AMAZING gourmet desserts!

Jaimie
What if I can't pick up my food?
Fresh-made food is best fresh
We count on pre-ordered food being picked up on time. But occasionally something comes up and customers don't pick up their meal at their appointment time. We understand that life happens. 
If you miss a pickup time, we ask that you contact us by noon the following day to request a new pickup time.
If we don't hear from you by noon the following day, we will get your meal to local agencies who serve families who are food-insecure.